OUR TEAM
One of the main components of the company's stable growth and development is our team.
BSG RECYCLING specialists are specialists in their fields, each of whom has more than one year of experience and professional competence behind. Let's get to know each employee better.
"A leader is not a position, but psychology, a way of life and a way of thinking.
My tasks are to build a strong team, organize productive work, and strategic planning. "
ANASTASIIA HORBAN
CEO of the company, a successful, ambitious leader who is well versed in the intricacies of the secondary raw materials market, as well as able to build all work processes at a high organizational level.
"I provide solutions according to customer needs, including finding high-quality products and arranging timely delivery."
ALONA LEGA
Manager Purchase and Logistics. There is no route that Alona could not build for our customers to make it as profitable and fast as possible.
GIANNI DE MEES
Sales development representative. Gianni is an Italian with a Ukrainian soul and a true professional in his field, he knows how to find an individual approach to each client, to meet his needs as accurately as possible.
NATALIA SKOK
Assistant of Purchase and Logistics. Natalia is well versed in her job, she is meticulous and responsible in every task. Her responsibilities include preparing documents for suppliers and transport companies, as well as planning an available transport for delivering goods.
Competent accounting and management training can help anticipate many financial and managerial problems. My love for numbers helps me in this, with high concentration and scrupulousness."
IRINA DENISYUK
Company accountant. Iryna treats each task as responsibly as possible, performs each item related to calculations, transactions, and accounting reports in a timely and reliable manner.
"Speed, scrupulousness, accuracy are important in customs, these are the qualities I train every working day to be as effective as possible for our customers."
ANDRIY TETERYA
Customs broker. Andrew is a real specialist in his area, 12 years of experience and a responsible approach to each case, help to make all process of documentation of goods for both export and import, quickly.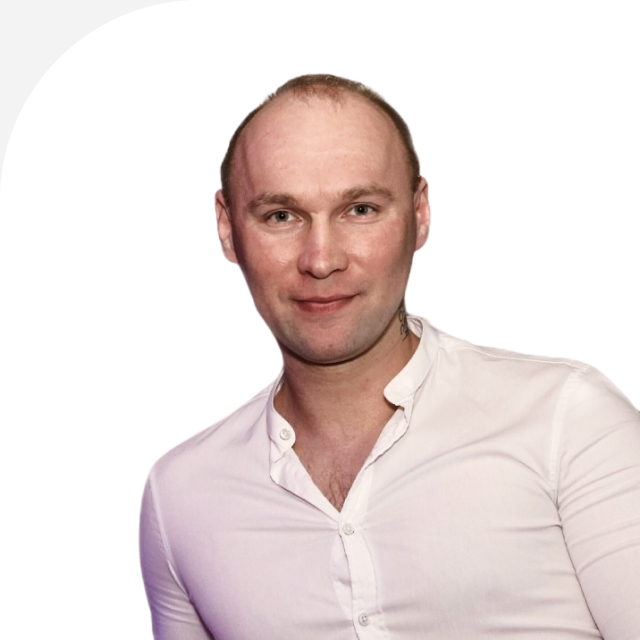 Sales Manager, FEA Specialist. Sergei is well versed in his work, meticulously and responsibly to each task. His responsibilities include preparing documents for customs clearance, obtaining permits and licenses, as well as communicating with customers.
SERGIY RUDYAK